| | |
| --- | --- |
| | Incomplete: This article is currently incomplete, including grammar mistakes, empty sections and unfinished sentences. Reader's discretion is advised. Please do not make random edits unless you have a primary resources from the source material. |
Holy Arcadia Empire Arc is the eleventh story arc of Saijaku Muhai no Bahamut series and also the final arc of Seven Dragon Paladins Arc. This arc entirely focusing the Holy Arcadia Empire, the oldest and infamous branch of the Arcadia House who abducted Lux and his fellow six Dragon Paladins to do their dirty deeds courtesy to the betrayal of Carol, whose real name is revealed as Aeril Vi Arcadia the Second Princess of Holy Arcadia Empire's Thirteen Generation Line of Nobility. In the same arc, Lux is having an uneasy partnership with Singlen in his effort in thwarting the Holy Arcadia Empire's sinister plan of invading Avalon, but Fugil betrays against Listelka in order to fulfill his own ambition to rule the world as its new king.
The Lord's Purge Against All Ruling ClassesEdit
Sometimes after Dragon Marauders' demise, Lisha is awaken from her recuperation at the Academy's Infirmary but immediately leaves because she seemly misses the New years parade. On her way, however, she confronts Krulcifer who not only congratulates her success but also warns her not to force herself. As the girls are discussing their future battles, Lisha wonders about Lux as the class is about to begin but Krulcifer tells her some bad news: In the wake of the aftermath of Dragon Marauders' defeat 1 week later, the Lords have liberated both Hall (Ymir Theocracy) and Garden (New Kingdom Atismata) and their relationships with the World Alliance has deteriorated as they announced the hidden worlds including the Sacred Eclipse. Lisha is infuriated to learn this to the point condemning the Lord's manipulation from the start. To further the princess's shock, however, Krulcifer proceeds to tell her the Lord's Plan to purge every royalties and nobles across the world and further explains what happened next.
It revealed that in a same week, Listelka has made her surprising "visit" (via Abyss named Shadow[Notes 1]) at Lordgalia Royal Palace[Notes 2] where not only she revealed that she controlled all the Ruins across the world, she also gloating Holy Arcadia Empire's superiority and coercing everyone[Notes 3] to accept her regime, as well as her threat about annihilating everyone who resist her (especially Drag-Knights). Enraged by Listelka's unreasonable "demand", noblemen desperately requested Queen Raffi to order to exterminate the Shadows but ignoring Raffi's dilemma about Atismata's scarce of manpower[Notes 4], only to be silenced by Nulph for their disrespect for the queen, before witnessing the Shadow reduced to ashes. To make matters worse, they also learned that all Seven Dragon Paladins were kidnapped as hostage by the Lords and they were given an ultimatum: The Lords will execute all 7 Dragon Paladins if the nobles fail to send some representatives to Marcafal Kingdom within the next 12 days.
This news further enrages Lisha to the point losing her temper but Krulcifer reasons with the princess that she is not in her prefect shape to battle-especially when she was unable to feel anything strange about the Dragon Paladins' abduction and Abyss's presence at their home kingdom. Moreover, not only their time is limited and they are lacked of resources, allies such as Celes and Phi have already left for Marcafal Kingdom this morning, to Lisha's frustration. Anyway, Lisha tells Krulcifer that they will be leaving to Marcafal Kingdom in hours which Krulcifer replies that she is not the only one who is concerned about Lux, of whom is none other than the Triads who then urging Lisha and Krulcifer to rescue Lux first while they wait for Yoruka's recovery. As soon as Lisha and Krulcifer depart[Notes 5], the Triads begin to lament their loneliness especially Sharis whose legs are trembling for odd some reasons but they eagerly wait patiently until Yoruka's recovery.
Chronicles
Edit
The Imprisonment of Lux and the Dragon PaladinsEdit
At Guernica Prison, Lux wakes up and find himself as a prisoner[Notes 6] in a cell. At the same time, he is also shocked to see Hayes again [Notes 7][1]whose revelation about her revenge against him and his allies prompts him to realize that she was responsible for the Dragon Marauders' betrayal against Soffice. Hayes then tortures Lux by whipping him as her "lesson" about her pain and suffering, while his new collar[Notes 8] [Notes 9]electrocutes him for defying her torture. Hayes however isn't done with Lux as she not only gets him up [Notes 10] [Notes 11]and warns him about the consequences of defying the Lords, she also going to test Lux's "qualifications" as one of their "slaves" by starting his "trail" that forcing him whipping his fellow Dragon Paladin and prisoner Greifer. Despite Lux's horror, Greifer insists him to whip him as he believes that his torture will never break the Seven Dragon Paladins' unity as the Lords intended. Eventually, Lux's hesitation get the better of him as he's still unable to whip his comrade in spite the pressure from Hayes and Greifer. Consequently, he is electrocuted by his Wedge again as his "punishment". Hayes however continues her cussing towards Lux as she isn't about to let the "bait" die yet, making Lux to realize that the Third Imperial Princess's vile intentions on killing Lisha and others as well before he passes out.
When he wakes up, Lux sees Carol, or rather Aeril, healing his wounds and apologizes for her betrayal and Hayes's violent behavior. Aeril then reveals to Lux about her mission in observing the world as a Lord with her fake identity, as well as Hayes's grudge against him which she deems as a mistake. Before Aeril could explain even further, however, Hayes interrupts her sister's conversation with Lux and cusses her mercy to her "enemy". Still, Aeril calmly warns Hayes about the Seven Dragon Paladins's importance to the Lords and even a slight mishap befall upon them any mishap will not be tolerated. Hayes however pressures Aeril to carry out Listelka's instruction so she can participate the battle but her sister warns her about her body's condition. Nevertheless, Aeril orders Lux to go another room to retrieve the female Dragon Paladins while she frees Greifer and Singlen, not before warns him not to escape because of the Wedge's function. With little choice he has now, Lux reluctantly comply to Aeril's order and heading towards another cell.
Upon his arrival, Lux enters into the said room and greet the 4 female Dragon Paladins only to see them (almost) naked but wearing Wedges just like him. Of all the female Paladins, Rosa is the first to approach Lux despite the latter tells her to back away whiles Soffice mutters her own "horrific" story with Lux. Anyway, the situation turns chaotic when all 4 girls clings to Lux until Aeril enters the room that resulting a misunderstanding. Lux tries to reason with Aeril but she claims that she "doesn't mind" even though Lux senses her inner hostility. Magialca then pacify the situation as she explains to Aeril that all of this was Hayes's scheme when she actually tore off their clothes and took away their weapons, much to the shock of both Lux and Aeril.
Armed Might Negotiations
Edit
The Other Lord
Edit
The Revival of Sacred EclipseEdit
At Marcafal Kingdom's Guernica, Lux and Aeril continues their journey for Avalon while combating numerous Abyss that infesting the Old Castle's first floor until they find a small room for their break[Notes 12][Notes 13]. Whilst Hayes is leading her Abyss Army to halt the advance of the White Ridge Knights'[Notes 14], Listelka and Fugil meanwhile are supervising Lux and Aeril and keeping their tracks and updates via Mishis and Dragon Marauders' information. Before Lux even asks her a question, Aeril reminds him that she can only answer his question that is considered as a tolerable scope before giving him permission to speak. After thinking for a while, Lux asks Aeril why the Abyss attacked even the Lords, to which Aeril reluctantly replies that someone has overwrote the Abyss's directives that caused them to gone berserk and attack anyone indiscriminately[Notes 15]. This prompts Lux to wonder if his ancestor was responsible for the Abyss "malfunction", though Aeril is unable to confirm it [Notes 16] as she believe someone else aside from the Holy Arcadia Empire is operating the Avalon's defensive system.
Philuffy and Celestia vs MishisEdit
Suddenly, Lux and Aeril hears a strange ominous yet sinister voices behind the room which the latter affirms it belongs to the Sacred Eclipse. Shocked to see its revival[Notes 17][Notes 18], Aeril immediately tells Lux to escape but the door is smashed before he could response and the violet wire chain is about to be snapped. Fortunately, Lux is narrowly rescued by Phi who is riding her Typhon, followed by Celes's arrival via her Lindwurm.
Nevertheless, Lux is surprised to reunite with Phi and Celes and asks them how did they get here. Phi replies that because she smelt his scent while Celes told him that Lisha and Krulcifer let them passed through the entrance while distracting Hayes[Notes 19]. Anyhow, Celes tells Phi to take Lux out from the Old Castle while she dealing with a pursuer but before Lux could even explain to his friends, Aeril tells Phi and Celes to put him down but Phi refuses, forcing Aeril to attack Phi and then attacking Phi. Phi retaliates by activating Typhon's shield only to be stunned to see Aeril's attack crack the shield with the speed faster than light; in fact, the attack is so fast that not even Lux is able to see it.
That attack prompts Celes to realize the Drag-Ride Aeril is riding is actually the Divine Drag Ride, which Aeril dubs it as Zahhak. Without any hesitation, Celes activates Lindwurm's Divine Gate and challenges Aeril to show her strength and resolve, while Phi attempt to retrieve Lux. Aeril, however, refuses to see Lux being taken away so she plays her Horn Flute to summon the Abyss Horde to distract them. While slaying the incoming Abyss Horde, Celes uses Divine Gate to sneak attack Aeril only to see a huge wall pushing her down; meanwhile, Phi is under attack by Gargoyles and Chimeras consecutively while suffering her headache from Aeril's Horn Flute. Lux tries to save them but Aeril stops him as she coldly warns him about his Wedge's function should he disobey his order and abandoning Phi and Celes is the only way to save them. Unwilling to see his classmates' struggle, Lux reluctantly complies and continue his mission while praying for their safety.
Traveling into the Old Castle's deeper section via the opened gates, Lux, upon his realization that Aeril was the driver of Zahhak, recalling the event where he fought against Rosa during the Campus Festival, leaving him to assume that she (under the name Carol) has been watching him all the time. Initially fell irritated by his question, Aeril still explains to Lux about Zahhak's powers-the Brain HackWicked-that is able to interfere surrounding people's mind while erasing their specific memories and perception. Nevertheless, the two find a room to take a break before proceeding their mission for Avalon but eventually confronting both Celes and Phi who miraculously survive their ordeal [Notes 20] and catch up with them. Regardless, Aeril will not let Phi and Celes get close to Lux.
Worries that the duel will only bring harm than good to both sides[Notes 21], Luz pleas Phi and Celes to withdraw as he explains his situation in regards to his second collar; only to see his plea backfires very horribly as Phi and Celes becoming even more determined to free him from the said collar. Their confrontation, however, is interrupted by Listelka who orders Aeril to continue the invasion onto Avalon as she has dispatched Mishis to deal with Phi. In response, Aeril immediately swings her Breath Whip that creating an opening, grabbing Lux and rush through the underground in order to find any portal before Mishis's arrival[Notes 22] while shaking off Celes and Phi's pursuit. During their escape, Lux notices a large hall-which Aeril claims that it is one of many Abyss Plants in Avalon-and the two enter hall so they can hide from Celes and Phi who are preoccupied by Abyss's presence.
During their exploration inside the Abyss Plant, Aeril explains to Lux everything from Listelka's motive in utilizing the Old Castle for her goals to the Divine Drag-Ride manufacturing machine as well as Mishis being Holy Arcadia Empire's champion[Notes 23]. The empty atmosphere of the room further risen Lux's suspicions as they didn't encounter Abyss despite they have just entered their plant. As they explore further, however, they are horrified to see rotting Abyss's corpses are everywhere while meeting Mishis who is responsible for the Abyss massacre. Mishis , however, urges both Aeril and Lux to stay back as she detects 2 enemies heading towards them, whom later revealed as none other than Phi and Celes.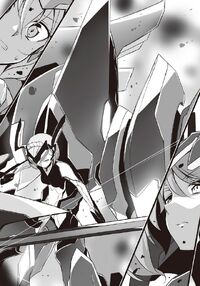 The duel begins with Phi launching Typhon's Pile Anchor onto Mishis but misses as the latter dodges it, though, in reality, the anchor is actually attacking the pillar. However, Mishis is unimpressed as she instantly sees through the surprise attack from both opponents. Nevertheless Phi and Celis proceed to attack Mishis via pincer attack that seemly beating the maid, but Mishis swings her Halberd that destroys everything throws at her whilst blocking Celes's attack via Azi Dahaka's full power barrier without suffering a single scratch; which worries both Lux and Aeril, especially the latter who is extremely concerned about the battle will endangering both Phi and Celes.
As retaliation, Mishis then uses Ali Dahaka's Avesta to copy Lindwurm's abilities to perform Lightning Flash and attack both Celes and Phi but they retaliate via combined attacks of Celes's Flash and Phi's Biting Burst. Just as Lux assumes victory belongs to Celes and Phi, he sees Aeril's lips trembled until he sees the unexpected outcome of Celes and Phi's defeat because their attack is actually deflected by Mishis's Reflector. Mishis further dashing towards the weaken Celes and Phi but Celes barely able to defend herself to her lance, only to witness Mishis uses Divine Gate-another ability she copied from Lindwurm-to teleport herself towards Phi and ambushes her instead; though Phi reacts quickly by kicking Mishis immediately. "Admired" by the display of her opponents[Notes 24], Mishis opts to finish the duel with her Missing Faith-an ability she copied from Typhon-to defeat them as her Halberd strikes their Force Core, resulting from their defeat.
Despite his astonishment to see Mishis' power, Lux still thinking about rescuing Phi and Celes before Mishis could kill them even if his Wedge will kill him as the result. Suddenly, Aeril raises her voice to stop Mishis but the maid replies that she needs to finish off the enemy of Holy Arcadia Empire's immediately, with Listelka intervenes by asserting her recognition towards Lux merely her sister's servant and refuses to let her tolerance and mercy got the better of her. Their conversation, however, is interrupted by something triggering a trap inside the Abyss Plant that shoot fire arrows at Aeril, injuring her. To make their situation even worse, they confront Sacred Eclipse[Notes 25] that prompts Aeril to order Mishis to keep Sacred Eclipse busy and buying both she and Lux escape for the Old Castle while stopping Lux from saving Phi and Celes. Lisha and Krulcifer later arrive at the scene but the latter tells the princess to retrieve their classmate and fall back after she observing the situation. Initially unwilling to give up on saving Lux, Lisha reluctantly complies to Krulcifer's advice and bring her defeated classmate away. Lux, on the other hand, feels regret to see his reunion with his friends turns out this way but reluctantly follows Aeril while Mishis is fighting off the rampaging Sacred Eclipse.
A Plan That Lead to Demise
Edit
The Young Man's Collar
Edit
Despite their success in defeating the Ragnaroks and prevent Holy Arcadia Empire's invasion onto Avalon, as well as retrieving the Seven Dragon Paladins altogether, the World Alliance's victory is pyrrhic one because of the higher toll for the battle. Not to mention their champion Drag-Riders are exhausted from their harrowing duel against both Abyss, Mishis and Hayes. 
Prologue (Part 2)
Edit
The Past That Arrived at Farewell
Edit
(To be added...)
(To be added...)
(To be added...)
(To be added...)
(To be added...)
Chronicles (Part 2)
Edit
The Memory's Continuation
Edit
Avalon, Invasion
Edit
Zweigbergk's BetrayalEdit
Unexpected Rescue from HayesEdit
Just as Zweigbergk is about to execute Airi and the Triads, however, he is critically wounded by a stranger's attack that cripples his arm and piercing through his armor. To the girls' horror, that "stranger" is none other than Hayes who is seen wearing a white robe without her Drag-Ride. As Zweigbergk attacks her, Hayes blocks it effortlessly with her hand while taunting him as pitiful because he wasn't informed by Singlen's "essential information". Hayes's new strength prompts Zweigbergk to demand her identity to which Hayes, in return, mocks him as a mere lowlife and defeats him with one punch that splitting him in half, killing Zweigbergk.
Hayes is so impressed to see her new powers that she proclaims herself (not Lux or even her sisters Listelka and Aeril) as Arcadia Empire's "real" successor and vows to use this power to repay her humiliation onto Lux and his friends, until she turns her attention onto Airi and the Triads and an incoming Abyss. Hayes however ignores them as she leaves them for dead whilst muttering her plot to rule the world and torment her sisters before vanishes via teleportation. Regardless, Airi and the Triads grateful for surviving their ordeal but the former has an ill hunch about Hayes's sinister motives; though she opts to put it aside as she is leaving to find a first-aid kit to heal the Triads.
Reminiscence and Tracing Back the Memory
Edit
The Inevitable Outsider Element
Edit
Lux vs. Singlen: The Conflict Between Philosophies of PowerEdit
At the Underground Floor, Lux and Singlen proceed to investigate the area while finding Listhe underground level after the former survives Mishsis's assault via the Syvalles's rescue. The duo eventually reach to an ancient tower where it's Gear Leader Arshalia informs them that the Second Trial will be more difficult than the last one, so she urges them to make any preparations before touching her. Lux however becoming skeptical as he asks if they are able to finish the trial ahead of Listelka but Singlen scoff it off as he tells him to he will hold both Listelka and Fugil off because they didn't have much to fight against the enemy. Eventually, Lux enters the Second Trial where Arshalia begins to strengthen him via Baptism by pouring Elixir onto Lux that causing him to suffer intense agony before passing out, with Singlen sarcastically tells the fallen prince that he will "watch his back" as the Trial has commenced.
During the trial, Lux relives the history of the Coup that caused the fall of Arcadia Old Empire 5 years ago while witnessing an inconvenient truth: He firstly witnesses his confrontation with his late father-the former Emperor-where despite his crushing victory against the Imperial Army of 1,200 Drag-Knights, he refused to give up and made Airi as hostage and blackmailing Lux into surrender instead [Notes 26]. In the midst of the affair, however, Fugil arrived at the hall and freed Airi by killing a chief Drag-Knight via his Bahamut's Reload on Fire. Shocked to see Fugil's betrayal, the Emperor demanded Fugil why he turned against him despite his "rescued his ancestor[Notes 27], to which Fugil brushed it off because of an "unforeseen events" (which involving an unknown person and Count Atismata's assassination) he deemed as a distortion of fate so he "rectify" his mistake by summoning Ouroboros to kill the Emperor, prompting Lux to realize that Fugil was responsible for the previous Royal Arcadia Empire. The trial then ended with the angry Emperor ordered his remaining army to kill Fugil which ended with a sea of flames, indicating Fugil's eventual murder onto the Emperor.
Lux, whilst surrounded by Singlen and Arshalia, is awaken from his Baptism and he is told this was just his preparations in obtaining Avalon's total control. This "preparation" however severely weaken Lux as he can't even stand up properly, as Singlen explains that it was due to Baptism's tempering onto the users' bodies that happened to other candidates before Lux. This confuses Lux to the point he demands Singlen's information about Avalon's capture since hiding it will violate the World Alliance's pact. As his "answer" to Lux's question, Singlen tells him some nonsense about Avalon's "arrangement" about the world's perception but teases Lux that he know better than his words are true.
Fugil's BetrayalEdit
After sacrificing Hayes, Listelka and Fugil proceed to move towards the control room where Arshalia commences the third trial. Without wasting any time, Listelka agrees as she has anticipated this moment since her awakening. After the third trial, Listelka obtains Sacred Eclipse's power and finds it magnificent, meaning she has information about Avalon and intends to use it to rule the world while reviving the "Key of the Surface"-one of Sacred Eclipse's ultimate strength. Fugil then asks Listelka about her first move to which she reveals that she plans to "purify" the world by exterminate the ruling class even if it means resulting a massive casualties.
Remnants Dragon Paladins Vs. FugilEdit
Outside, Lux wakes up from his unconsciousness after his harrowing duel against Singlen but barely moves because of his injuries. While he watches Avalon's unusual atmosphere, Lux is approached by Magialca who congratulates him for stopping Singlen's ambition while planning to obtain Avalon by killing Fugil who is standing before them. Initially confused by her words, Lux is shocked to see corpses of Listelka and Mishis which Magialca indicates as the result of Fugil's ultimate betrayal. Aeril[Notes 28] and the remaining 4 Dragon Paladins (Greifer, Mel, Rosa and Soffice) are next to arrive at the scene where they are also confront Fugil.
Fugil tells everyone that Avalon will "reorganize" the world within 10 minutes and "urges" them to stop interfering, but Aeril retorts that she and others vows to stop his vile ambition while attacking him. However, Fugil retaliates by swinging his Sword Device that make Aeril's whip's disappear whilst blocking though the whip reappears shortly after Fugil swings his weapon again. This confuses Greifer and Aeril's only conclusion is muttering about an unknown ability of Ouroboros's special armament, Zero One. Nevertheless, Magialca takes command of the strategy while Aeril and the 4 Dragon Paladin to attack Fugil. Lux on the other hand worries about everyone as he is wary about something dangerous about Fugil.
While he scoffing at Magialca, Fugil reveals that he doesn't want to kill the Dragon Paladins[Notes 29] due to their talents, tragic backstories, and their "qualifications" in leading the masses to the "new world" where he views himself as the new king-something he longed desired. So he urges his enemies to give up fighting for Avalon's information and forget everything. However, the Dragon Paladins and Aeril reject Fugil's "offer" as they all refuse to bow down at the "future king" while claiming Lux to be a better hero. During their confrontation with Fugil, Aeril requests everyone to lend her their ears while fighting because she will tell them about Avalon's hidden function.
Characters
Edit
Major characters
Edit
Supporting characters
Edit
Mentioned Only
Edit
(To be added...)
Story Impact
Edit
The abduction of the Seven Dragon Paladins forcing each Paladin to put their hostilities aside and cooperate among themselves if they want to have any chances to escape from the Holy Arcadia Empire's manipulations, especially Singlen due to his suspicious motives.
Mishis's true prowess is shown where she is able to utilize the late Balzeride's Aži Dahāka' to defeat both Celes and Phi, two of the strongest Drag-Riders from the Atismata Kingdom.
The aftermath of the duel in Avalon has effectively change the entire world, specifically further extending Lux and his friends' is a lot of changes for the entire world.

After her last minute treachery against the Holy Arcadia Empire during the Invasion of Avalon, Aeril not only becomes a prisoner at New Kingdom Atismata, but she also but becoming more friendlier with Lux and his friends. Although this somewhat led to Lisha's dismay because of her envy towards the relationship between Lux and Aeril.
Despite Holy Arcadia Empire's defeat after Hayes' defeat and Aeril's betrayal, both Listelka and Fugil had to retreat but refuse to give up their goal, making them as a bigger threat to the world alongside with the Sacred Eclipse.

Whilst narrowly survived from her predicament, Hayes's injuries from Lux and Aeril's attack are so severe that not even Elixir can heal them. In fact, Listelka had to end her "misery" by having Fugil to kill her in her stead, but her death doesn't last long.
Mishis herself begin to suspect Fugil's motive after Hayes's demise until his betrayal against Listelka for killing her during the Third Trial. Sadly, she is unable to avenge Listelka's death as Fugil's Ouroboros is too much even for her despite her best efforts, leading to her demise by Fugil's kill.

Although the World Alliance is victorious against the retreating Holy Arcadia Empire, it is considered as a pyrrhic as most of them saving Lux's allies and the Paladin Dragons were fallen victim to Listelka's scheme and Fugil's Bahamut.
In spite her "death", Hayes "return" to life as she gains part of Sacred Eclipse's power after she survives from even Fugil's "mercy kill". It may takes the combined efforts and powers of Lisha, Krulcifer, Phi and Aeril to actually crippling Hayes, but in the end it's Fugil who eventually kill the third princess for real as a sacrifice piece for Listelka's path for godhood which he latter robbed by betraying her.
Hayes's backstory reveals that she was once considered as a "replacement" for Listelka and Aeril instead as a noble herself.
The truth of the Old Arcadia Empire's fall reveals a different story than the Fallen Prince Arc suggests: According to Lux's suppressed memories via the Trials in Avalon, Count Atismata was actually killed by a mysterious murderer while the coup was underway, and the late Emperor refused to admit defeat and even resorted to blackmail his son by having Airi as hostage, only to meet his demise by Fugil's betrayal. This alone further boils the rivalry between Lux and Fugil.

During that same Trails, every time Fugil mentioned someone related to the Atismata House he often says the "XX" which may indicating Lisha's involvement in the fall of Arcadia Empire.
References
Edit
↑

Light Novel Volume 13 Chapter 1
This arc's end is considered to be the darkest arc in the series, considering more casualties and Fugil's ultimate betrayal for his own ends. However, the following arc is to be even darker and edgier considering Fugil eventually putting Ouroboros into good use to against the heroes.