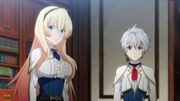 The former prince of the fallen Arcadia Kingdom a student of Royal Knights Academy. Initially disliked him due to her reputation as a man-hater, Celes was the first who originally object Lux's enrollment in the academy. In reality however, Celes is actually trying to protect Lux from anything related to Arcadia Kingdom's subject, specifically after her mentor's passing by a dark conspiracy by Arcadia Kingdom. After his rescue from Saniya's betrayal however, Celes begin to have some affections towards Lux.
Old Empire
Edit
Wade Roadbelt
Edit
Celes's teacher in swordsmanship appeared to be Lux's grandfather.
New Kingdom
Edit
Rival and Enemies
Edit
Ad blocker interference detected!
Wikia is a free-to-use site that makes money from advertising. We have a modified experience for viewers using ad blockers

Wikia is not accessible if you've made further modifications. Remove the custom ad blocker rule(s) and the page will load as expected.